The Government would be either brave or foolish to refuse calls backed by Sir David Attenborough for a ban on deep-sea mining, ministers have been warned.
Labour MP Kerry McCarthy claimed the Government's position on mining the sea floor for rare minerals stopped short of the "precautionary pause" called for by the naturalist and broadcaster, as well as other celebrities.
Foreign Office minister Anne-Marie Trevelyan told the Commons the UK Government will not sponsor or support deep-sea mining contracts unless there is sufficient scientific evidence about its potential effects on ecosystems and until strong and enforceable environmental regulations and standards are in place.
Ms McCarthy, who is a shadow climate change minister, but was speaking from the backbenches, responded: "As I understand it, it actually means the Government has rejected calls for a precautionary pause and is saying it is better to be involved in negotiating environmental protections.
"I have to say, it is a brave politician or perhaps a foolish one who takes on Sir David Attenborough, who has said it is beyond reason to be contemplating the destruction of deep-sea places before we understand them properly.
"Sir David also says we should listen to the scientists, and over 700 scientists from 44 countries have just supported a precautionary pause, so why won't the Government?"
Ms Trevelyan said: "David Attenborough's championing of all things around the natural world are ones that give both us as policy makers around the world, and indeed all those in the next generation who are passionate about ensuring that governments get this right, the enthusiasm and the energy that it requires.
"As I have said, the policy is not at the moment to sponsor or support the issuing of any exploitation licenses precisely because we want to make sure using the International Seabed Authority (ISA), the organisation which brings all state parties together, to ensure that we are working together to come up with a policy which is going to protect and assure the deep seabed."
Conservative MP James Gray (North Wiltshire) said the Arctic Ocean was particularly "vulnerable" to deep-sea mining and called for a ban to protect it from ecological damage.
"If they can agree to a moratorium on fishing in the central Artic Ocean, why can't they agree to a temporary no digging agreement with regard to deep-sea mining?" he asked.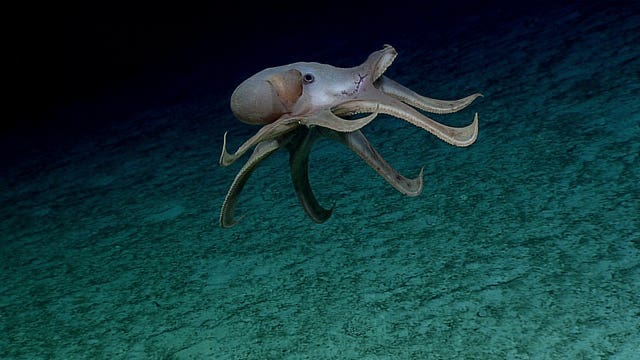 A number of deep-sea exploration contracts have been issued by the ISA, although no company is allowed to begin extracting resources yet.
They are searching for deposits of minerals such as cobalt, zinc and magnesium that are often used in renewable technologies like solar panels and wind turbines.
Many scientists, activists, governments and businesses are concerned that mining will destroy barely understood and fragile ecosystems on the sea floor.
Sir David backed calls to halt deep-sea mining in 2020, after a report by conservation organisation Fauna and Flora International raised concerns about the ecological impact of the practice.
Earlier this month, celebrities including Olivia Colman, Stephen Fry, Robert Lindsay and Joanna Lumley urged the UK to join a growing number of governments and companies around the world calling for a halt on the industry before it can begin.